Auld Haa Guest House - Fair Isle - Shetland Islands - Scotland
A registered historic building and landmark
owned by the National Trust for Scotland.

Historic charm warms the Auld Haa, originally built for the laird of the island in the year 1700. A gathering place that has shown hospitality to many travelers, notably Sir Walter, who visited here in 1814, he was interested in the Islands history and the Spanish Armada shipwreck, the El Gran Griffin of 1588.
Fair Isle's First Heligoland Bird Trap Built at the Auld Haa House - 1949
The Auld Haa is close to the Museum, the South Harbor all waiting to be explored. In view off the South Lighthouse, built by Stevenson in 1892, the light shines in the window at night. Make sure to find time to golf the humble but challenging Fair Isle Lighthouse Keepers Golf Course, Watch a few and make a few birdies at the same time. The Auld Haa has great views from the front garden, made even more amazing if you have the chance to see whales or a rare bird species. Keep a lookout for passing ships as Gannets plunge into the shimmering Sea.
Oil Painting of the Auld Haa House from the South Harbour by T. H. Hyndman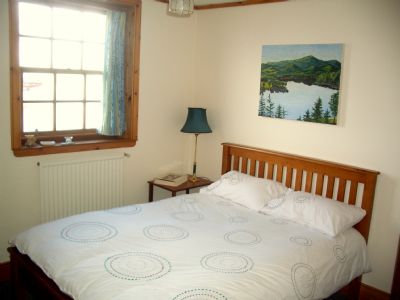 Two small but charming rooms with shared bath, access to the dining room,
living room Garden, SKY TV & Wireless Internet.
One large size bed in each room, very luxurious for one…
made to comfortably sleeps two.
♦ Price includes Breakfast, Dinner & Dessert ♦
Cheap! you will pay this much for just a room with no food most places in Britain.
2 persons - £135.00 1 room

The Auld Haa has two guestrooms and a third room if necessary, to accommodate children, stranded day tripper and desperate birdwatchers when a rare bird is about...
I may find a bed for you. So give Tommy a call. 01595 760 349


Tommy is very creative in the kitchen with culinary inspirations from Asia, Europe and the Americas, hope you like to eat! The Auld Haa Chocolate Cake is legendary... Whenever possible we serve local vegetables from our own garden, fresh fish and local game. All guests are accommodated with likes & dislikes, allergies, ways of life. etc. Just make sure Tommy knows if you like
Hot! or Not.
It's in the air, you'll love it here.
Puffins are present on Fair Isle, May till the first week in August.
From USA # 011 44 1595 760 349
Fair Isle, Shetland Islands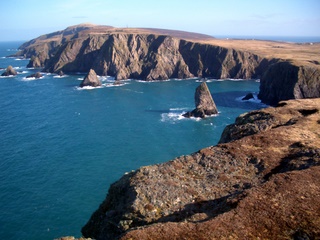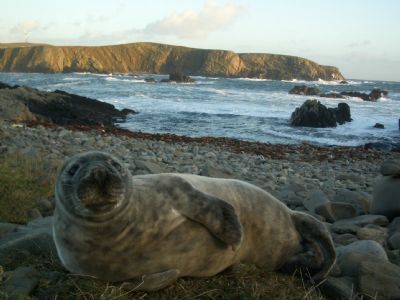 Seal Pup South Harbor
The Auld Haa Guesthouse will hosts 4 weeks of birdwatching during 2012 for Shetland Wildlife.
check these links.
Shetland Wildlife Tour - Fair Isle

Spring

Migration
Shetland Wildlife Tour - Fair Isle

Autumn

Migration
1
. Truly the most remote inhabited island in the UK.
2. Population about 50 to 60 year-round residents
3. Population about 50,000 summering Puffins
4. World Famous as the origin of Fair Isle knitwear
5. The island is owned by The National Trust for Scotland
6. Important location for breading Seabirds & migratory species
7. 28 new species for Britain orthogonal records
8. Holder of the European diploma for environmental living
9. Recognized as one of the most scenic places in Britain
10. Shetlands 2nd busiest international port due to private yachts
11. Fair Isle is about 1 1/2 by 3 miles in size
12. The only island for 50 miles between Orkney and Shetland
Auld Haa House photographed with the Aurora / Northern Lights in the night, lit by a full Moon.
(8 second exposer - Jan. 3rd, 2015)

Santa visits every year but we suggest April through October.